How It Works
The free printables you can create on this site are a quarter fold size using standard 8-1/2 inch x 11 inch size paper. Sample views are shown below.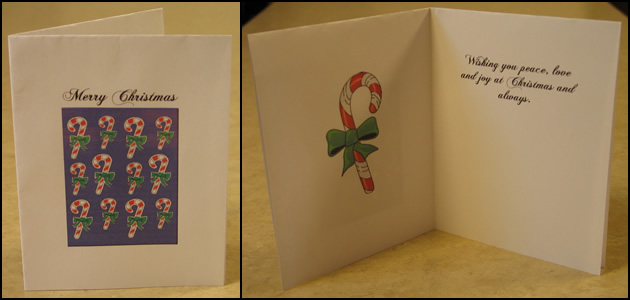 To create your free printable Christmas cards follow the steps below:
First, select one of the ten printable Christmas card designs and go to that page. The links are shown above. Then find the Adobe PDF download links which are shown as both a PDF logo and a text link. You can download the file using either one. A sample is shown below.

Candy Canes Design - Free
If you click on either of these links with your left mouse button, they may open and allow you to view and print the card. But, if you want to save the file to your computer to use any time you like, you must click on the logo or link with your right mouse button and select "save target as" from the popup menu. This may be worded as "save file as" or something similar, depending on which internet browser you are using.
When you have successfully downloaded your file to your desktop or the area you saved it to, you can open it by double clicking on the file or icon.
If it does not open, you may need to download Adobe Reader. You may have already been prompted to do so. This is a FREE program which will allow you to open all PDF files. You will need to go to www.adobe.com and look for the link labeled "Get Adobe Reader" and download and install Adobe Reader. It will only take a few moments.
When you double click on the file (or you can click the file once and hit enter on your keyboard) it will automatically open in Adobe Reader, or Adobe Acrobat if you have that program. There are some buttons at the top which will allow you to zoom in and out on the page and also to print the page. A sample screenshot is shown below.

Now you are ready to click the printer icon as shown above and print your card. You will notice that the front and back of the card is upside down. This is so when you fold it in half (keeping the printed side showing), it will then be rightside up. A second fold in half again will complete your card.
If the card does not print properly, please see Printing Tips below.
Another thing you might consider. You can also use "designer paper" and purchase matching envelopes for even more elegant Christmas cards. Although we include a template to make your own envelopes, you can also purchase envelopes which are made for this size of card. The measurement for the envelopes you will need is 4-3/8 inches x 5-5/8 inches. It is a standard size and will accommodate the quarter fold 4-1/4 inch x 5-1/2 inch cards you will create from our files.
This "designer paper" and envelopes are available at any office supply or discount store which sells paper. It will make a huge difference in the look of your cards.